Not long ago, Techken approached me…
They asked if I want to test their new Switch controller.
Because I´m always low on good controllers, especially on the Switch, and I´m a curious person, I´ve said yes, of course! And it didn't take long for the postman to bring me a nice little package from TechKen.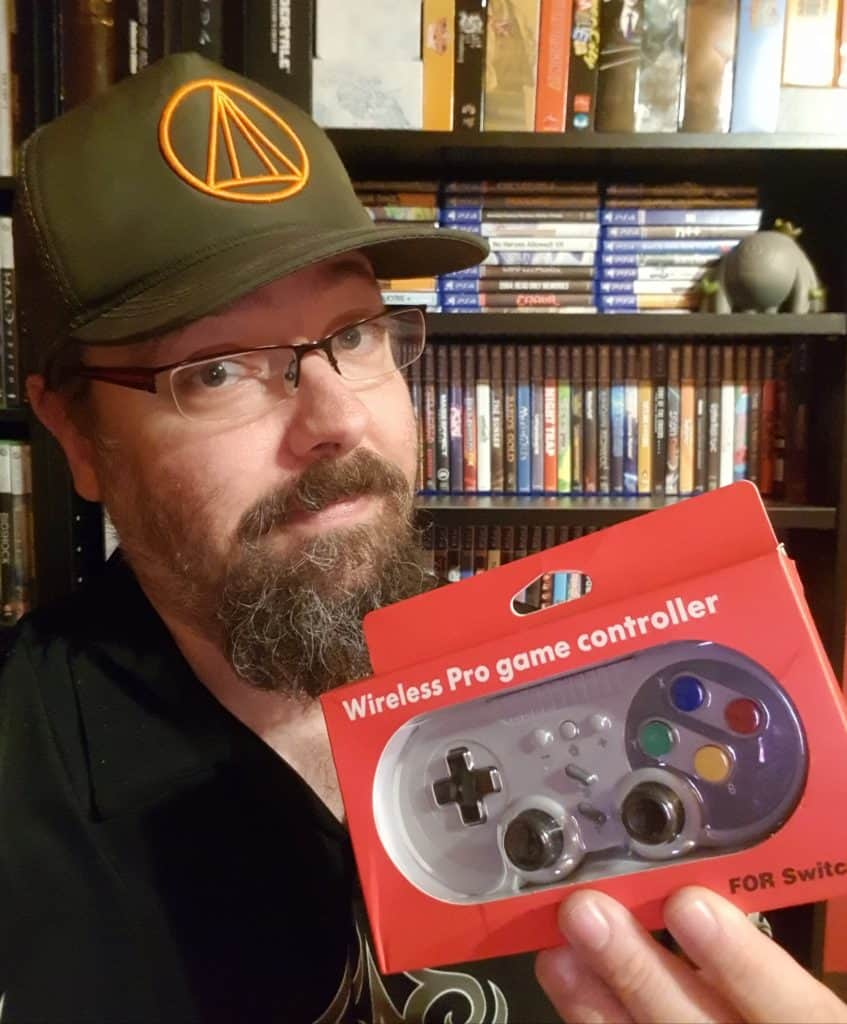 The look and feel of the Controller
So the first thing that caught my eyes was the slick design.
Before releasing the TechKen controller from its (boring) box, I've already noticed the extremely nice "SNES" look. Well, the pad looks better than its box *lol*. That was a big plus. But we don´t buy joypads to look at them (well, most of us). So, let's test that little rascal, shall we? Before plugging our new little friend into the Switch, I had to charge it, which didn't take that long, the cable was included, so no problems there. And, yes, the handling of the joypad came very close to the feeling of the original Super Nintendo pad too. If you ever held an SNES controller, you probably know how this one is gonna feel. One notable difference is the used plastic. The plastic of the TechKen controller feels a little bit cheaper than that of official Nintendo pads. To be fair, the TechKen controller is in a totally different price range and costs only a fraction of an original one. Still, I wouldn't drop it too often. 
Fun fact: you should probably NEVER drop a joypad too often, no matter whos the manufacturer.
Let's get the next negative point right out of the way: you cant start the switch with the controller. If your switch is in sleep mode, you probably have to get up from your couch and press the power button. I know that sounds stupid, its really no deal-breaker, but some people out there might be interested in such little things, so I want to get it right of my chest. But enough talk, have at you!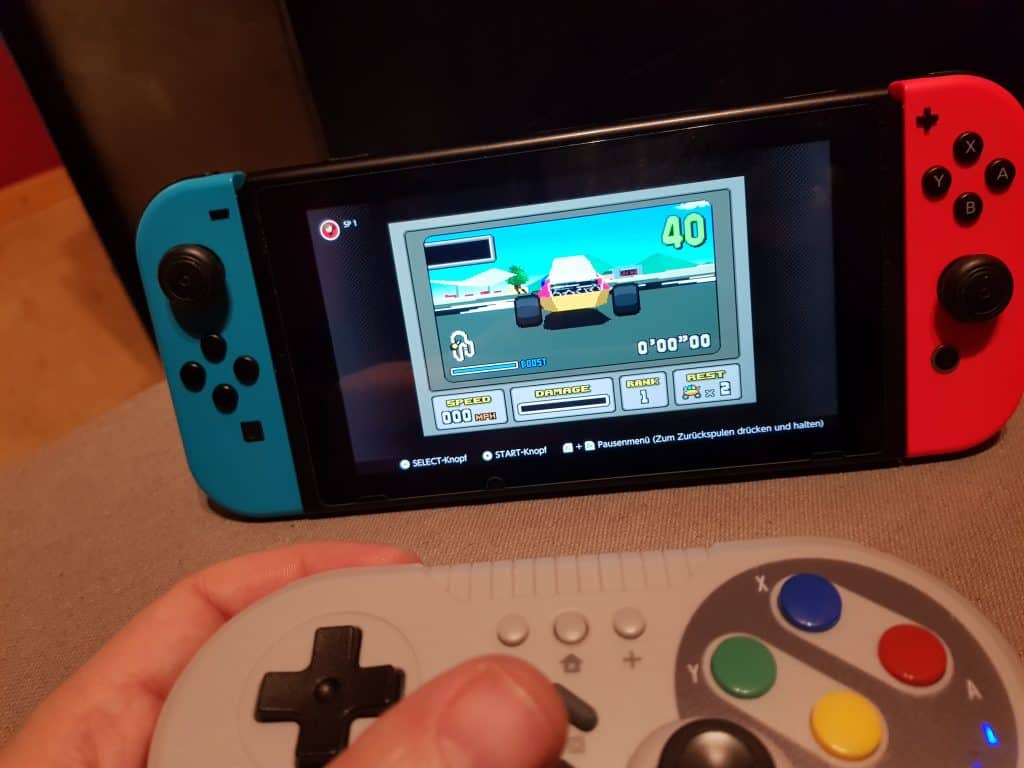 Testing the Controller with my Switch
This thing is called Switch Controller for a reason, so I popped it right into my fancy-schmancy Switch console to check it out. And, oh my god, I was blown away by those analog sticks! I can't stress this enough, they are great!!! Never felt like they were pointing in the wrong direction, simply fantastic, the response was good, I can't complain. I'm pretty sure that are the same sticks as the Xbox one sticks, and that's definitely a good thing! But let´s start at the beginning. First, I've played a few NES & SNES games, which worked pretty well, as expected. Then I wanted to take it to the next level and played Kirby, Sonic and a few other "Jump & Run" and a few Racers like Mario Kart 8 and "Fast RMX" which worked totally fine too. At this moment I was very impressed because I didn´t expect it to work that good. So now I wanted to test the controller really hardcore!
Smash Brothers and Guilty Gear it shall be!
And guess what, the TechKen Controller worked there too.
Testing the Controller with my PC
Granted, my PC isn´t the best. It's not very fast but I can build a website with it and my old Photoshop is running on it too. And if I want to play, I have a ton of retro games on my Steam library, or I could hook up my Retrode and play my trusty old console games! And that's exactly where the TechKen controller shines! The combination of the Retrode and this controller was perfect. Of course, it worked with every game I tried from my steam library, but soon I used the Retrode to play SNES and Megadrive games on my PC. And with this controller, it was a pure joy!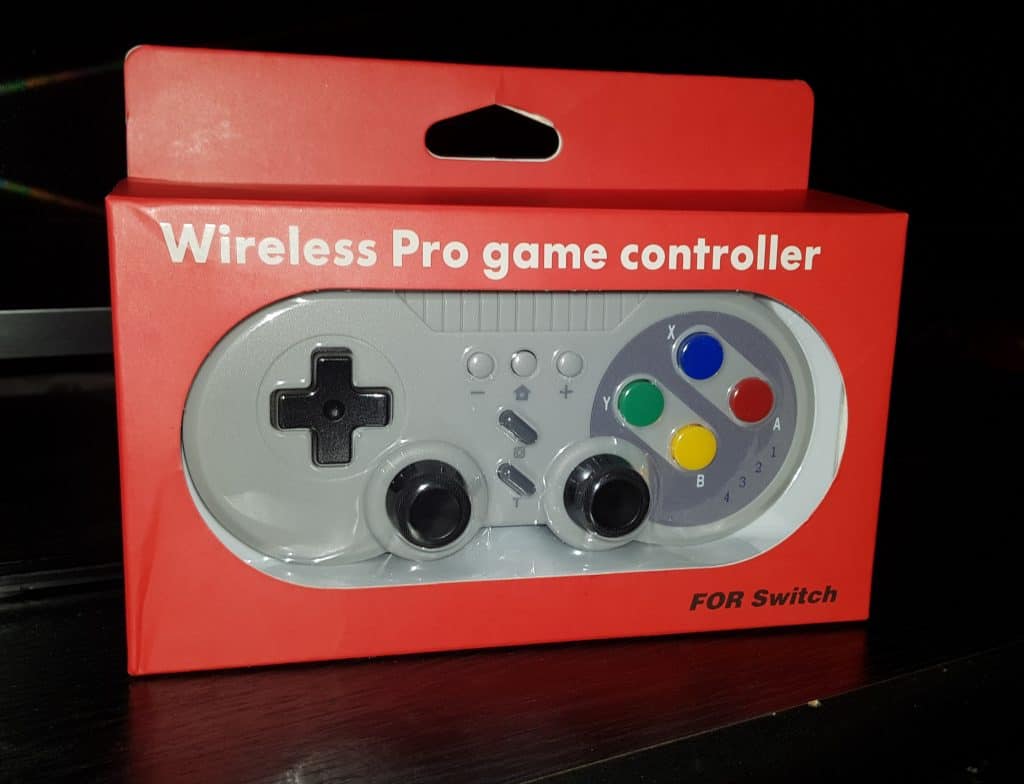 Testing it a little bit more & final verdict
After testing it with the Switch and the PC I thought that I could maybe get the pad running on my Retro Freak. Long story short, that didn't work out. I can hardly blame the controller for this because it never stated that it could do that, so I'm cool with that. Still, it would have been pretty nice though.
Now, what is my final verdict on the TechKen controller.
It's great, the price/performance ratio is what makes this joypad so good. Probably you won´t find another one in this price range (roughly 26$ on amazon), with the same functions as this one! If you´re into couch coop and you want some trusty, but low priced, pads for your squad, then this is the way to go. Buying 4 pads of theses will just cost around 100$. Do I use this TechKen pad all the time? No, I still have my "Pro Controller" and i don't have the illusion that it could be replaced anytime soon. But the TechKen made a really impressive piece of hardware for a very reasonable price here.